It is disease which involves inflammation of small blood vessels. Due to inflammation of blood vessels of skin, kidney and joints the vessels starts leaking. The common symptoms are rashes, joint pain, blood in urine and numerous bruise. Add anti-inflammatory food in your daily diet such as fatty fish, whole grains and green leafy vegetables to manage the symptoms and reduce the risk of disease. As per Ayurveda pitta aggravated food and life style should be strictly avoided as they trigger the symptoms.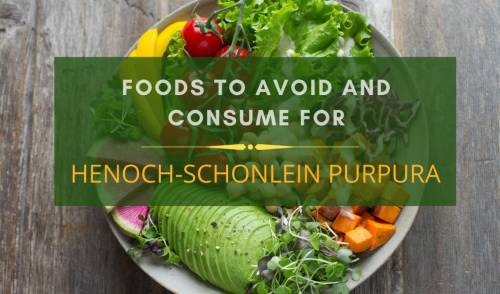 Diet Chart of Henoch Schonlien Purpura
Early Morning
Warm water + fenugreek seeds
Breakfast
Stuffed chapatti / besan chilla / vegetable dalia / Vegetable sewian / Veg poha/ missi roti /chapatti + vegetable/dal / boiled egg white (occasionally)
Mid Morning
Fruit / juice / coconut water / Herbal tea
Lunch
Chapatti/ missi roti + dal / brown rice + dal+ salad
Dinner
Diet Instructions
Cereals To Be Consumed
Whole wheat flour, whole grains cereals, brown rice
To Be Avoided
White bread, white refined flour and its products
Fruits To Be Consumed
Apple, Papaya, Musk melon, Watermelon, Pear, Sapodilla, Pomegranate, Banana
Fruits To Be Avoided
Vegetables to Be Consumed
Pumpkin, Carrot, cabbage, turnip, Bottle gourd, bitter gourd, ridge gourd, boiled carrots, radish, beetroot, potatoes, garlic, cauliflower, cabbage, winter squash, cabbage, spinach, green leafy vegetables.
Vegetables to Be Avoided
Tomato, Onion, canned vegetable and dried beans and pea, mushroom, Eggplant, okra
Non Vegetarian Items to Be Consumed
Eggs white portion only, chicken (not fried) (only boiled/roasted/grilled)
Non Vegetarian Items to Be Avoided
Egg yolk, Fish, Salmon, Trout, Sardines, Mackerel, Red meat, Organ meat like kidney, liver, chest, and egg yolk.
Spices To Be Consumed
Turmeric, cumin, coriander, fenugreek
Spices To Be Avoided
Red chilies, Green chilies, Cloves, cinnamon
Oil/Fats To Be Consumed
Olive oil, Cow ghee, Mustard oil, fish oil, avocado oil
Oil/Fats To Be Avoided
Vegetable oils such as safflower oil, corn, cotton seed, hydrogenated oils, margarine
Seed/Nuts To Be Consumed
Flaxseed- ½, 5 almonds (soak in water overnight), Fenugreek seeds, Walnuts (Limited)
Seed/Nuts To Be Avoided
All nuts and seeds except above mentioned
Dailry Product To Be Consumed
Dailry Product To Be Avoided
Milk and its products, Cream, Cheese, Yogurt, Buttermilk, Tofu, Butter
Dailry Product To Be Consumed
Coconut water, clear soups, sugarcane juice, homemade soups, green juice, herbal tea, bitter gourd juice, pumpkin juice, pomegranate juice, Green tea
Dailry Product To Be Avoided
Whole milk drinks, Cream based liqueurs, canned soup and packaged soup, Alcohol, Sweetened drinks, Squashes, Hot chocolate drinks made with Skimmed milk, Coffee, Tea
Prepare Food To Be Consumed
Prepare Food To Be Avoided
Pastry, puddings, made with whole milk and fat, packed soups, high fat dressing or mayonnaise, cream soups, chocolate, chocolate spreads, toffees, fudge, biscuits, sauces, peanut butter, fruit jellies, jams, marmalade, honey, sweeteners, chutneys, pickle, ice-cream, Peanuts.
Important Tips
Water intake should be 8-10 glasses regularly.
Herbal Tea- Cumin, fennel, coriander seeds (Boil ½ tsp. each of dhaniya, saunf, jeera in 3 cups of water till it's reduced to 1 cup). (Two times per day)
Avoid Junk and processed food strictly.
Manage healthy diet and lifestyle.
Intake of antioxidant rich fruit and vegetables.
This whole information for your good health and wellbeing is being provided by www.PlanetAyurveda.com
DR. Vikram Chauhan, MD - AYURVEDA is an expert Ayurvedic practitioner based in Chandigarh, India and doing his practice in Mohali, India. He is spreading the knowledge of Ayurveda Ancient healing treatment, not only in India but also abroad. He is the CEO and Founder of Planet Ayurveda Products, Pla